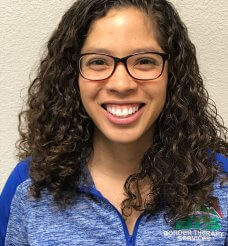 Sandra Lee Walker,
Physical Therapist
Sandra Lee Walker obtained her Bachelors of Health Science in Kinesology from UTEP in May 2014, and received her Doctorate of Physical Therapy in Dec 2018.
Her work at Border Therapy Services began in Feb 2019, where she currently treats patients with: Women's Health/Pelvic Floor dysfunction, oncology related deficits, cervical injuries/pain, low back/hip pain, chronic/persistent pain, and all general orthopedic conditions.
Current certifications include Dry Needling and Pelvic Floor Function/Dysfunction.
Future goals are to become a Board Certified Women's Health Specialist and McKenzie Certified DPT.
In her spare time Sandra is involved in promoting physical therapy services/benefits for El Paso through the Greater El Paso Physical Therapy Association where she is the Membership Committee Chair. She also enjoys running/hiking with her dog Jak and spending time with friends/family.